Every so often, the Volga Linen catalogue drops through my letterbox, and I fantasise about owning everything in it. I truly believe that life could be infinitesimally improved by perfect bedlinen and a well stocked linen cupboard - although when I say 'cupboard', I really mean 'room'. And for this idea I hold school trips to such houses as Montacute and Stourhead entirely responsible: I didn't think 'gosh it's sooo big,' but 'I could live sooo happily here,' and I mentally planned dinners for sixty and pictured my future monogram on hundreds and hundreds of little napkins (and I was going to marry someone with a really good title so my monogram would
definitely
have included a crown.) Seriously, if school had wanted to prepare me for reality, they should have taken me to look at two bedroom flats, and then to Ikea to research space saving ideas.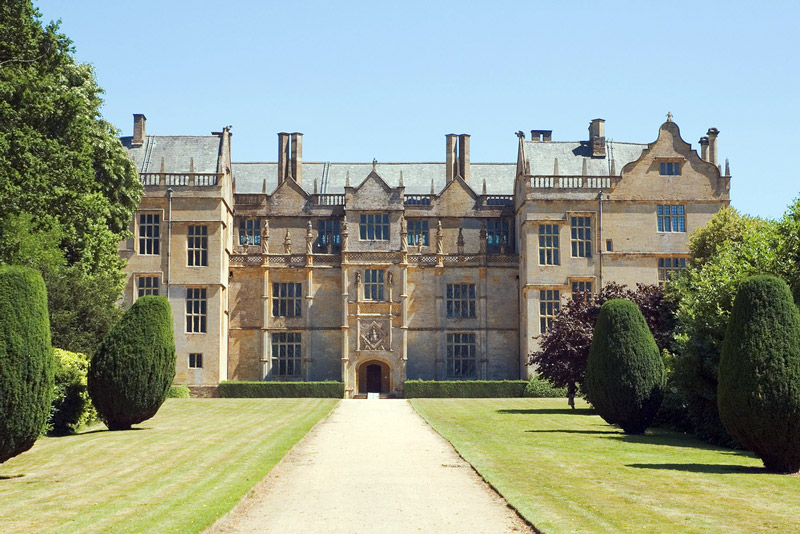 Where I feel I should be living: Montacute House
Where I actually live: in a two bedroom flat on the 5th and 6th floors of this not particularly attractive - though I'm very fond of it - Brutalist block, hence my having chosen a picture where the building itself is as obscured as can be by the gardens.
There are no dinners for sixty in our flat. Eight, even, is a squeeze, and while I did arrange the building of a linen cupboard at one end of our bathroom, my husband promptly filled it with tools, which is what he does with any space he finds lying fallow. (I was in Yorkshire with the children when the bathroom was being built. I wasn't there to take possession of the cupboard. And now he won't move his tools out. So we have a sander and some hammers and countless nails and I have no idea what else living in what is supposed to be a beautifully ordered and scented repository of pillow cases, napkins, sheets and towels.) So instead, I wander off to the Monogrammed Linen Shop on Walton Street, or spend hours on the Bella Lino website, or pick up the Volga Linen catalogue again, and dream:
Bella Lino
Volga Linen
But the truth is that we're not yet ready for monogrammed linen. We have children that bounce on our bed and spill their milk and make me spill my coffee, and so realistically, patterned sheets are best right now. Lulu Guinness used to do the most fabulous bedlinen ever, but tragically she has stopped, and I'm almost wondering if I should use the Bed of Roses set that Sophie the gorgeous PR gave me less often, in order to prolong its life:
Lulu Guinness, Bed of Roses (which is also kind of brilliantly Bon Jovi-esque)
But fortunately, there is always Cologne & Cotton, who, lest I ever forget about them, send me endless emails telling me that I can have 10% off, should I be in the mood to restock my non-existent linen cupboard:
Cologne & Cotton, raspberry pink Camille (which is on our bed at the moment.)
Cologne & Cotton Amalfi - we've got some pillow cases. And it's really pretty but my rings catch in the fabric because the stripe is embroidered on quite loosely.
Cologne & Cotton Eugenie embroidered linen - I would love this, but fear it is still too mainly white and so would show up all the coffee stains
But the children don't drink coffee in their beds, so Sholto has the Cologne & Cotton Stars in blue, and Esmeralda will have them in pink (once she is out of her cot.)
But happily for me Volga Linen don't just do beautiful bed linen. They also do laundry bags and dish cloths, neither of which require my living at Montacute to be able to make use of them. And using a monogrammed Volga Linen tea towel (there is literally nothing I won't put my initials on, given the chance) makes drying up (we don't even have room for a dish washer) just that little bit more enticing.
And my husband has promised,
promised
that he is going to sort out his tools. So the dream of a linen cupboard, at least, may yet be realised.
www.volgalinen.co.uk
www.bellalino.com
www.monogrammedlinenshop.com
www.cologneandcotton.com