I remembered last night where my obsession with bed linen stemmed from: there was a picture in Vogue, years ago, of Linda Evangelista and Naomi Campbell in a Versace covered bed, drinking tea out of Versace china cups. That image has stuck with me for over a decade, but, of course, I can't find it. (I might well be mis-remembering the models, which will not be aiding my search.) However I am going to Yorkshire this weekend, where lives my collection of Vogue, so perhaps I'll find it then.
My friend Anya, the Fashion Director of both Tatler and Allure Russia, has Versace tiles - white ones, with the Medusa head in relief - in her St. Petersburg flat. This news didn't actually come as any great surprise, as Anya is consistently super-chic to the extent that she is a firm favourite of the street style bloggers:
Anya and I used to have adjacent desks, back in the days when I still went to work and she still worked out of London. She used to buy the most decadent cakes, have a single forkful, and put the cake in her desk drawer, 'for later', while telling me that I could help myself. There never was any cake for her to go back to, which is one of the reasons why my hips are, to my reckoning, approximately twice the circumference of hers, and why she looks so much better in everything than I do. Also, she hasn't got children wiping their noses on her Balenciaga . . . yet. The pictures above are all old pictures. Check out the ones below, where Anya gives a masterclass in pregnancy dressing. I don't think that she's written about it, which is probably a good thing, because it would reduce the many, many 'how to look good in maternity wear' bloggers to tears.
With Natalie Joos, casting agent and author of one of my absolutely favourite blogs, the heavenly Tales of Endearment
At her baby shower, which was covered by both US Vogue and Tatler Russia, with the hostesses Natalie Joos (as mentioned above) and Julia Restoin Roitfeld, who also has the most wonderful blog, Romy and the Bunnies, which includes the most adorable images of her daughter Romy. I was utterly ecstatic to discover that Romy's and Esmeralda's wardrobes have a few items in common. I may not be a style icon, but I don't want to stand in my daughter's way . . . .
But what is less well known about Anya is that she is also a classically trained ballerina. (Inspired by her, and Sarah Jessica Parker, I actually tried classical ballet lessons myself. However I became dispirited when my legs didn't resemble Sarah Jessica Parker's after two sessions, so gave up.)
Anya is number six along.
Aren't those pictures adorable? Ballet was, Anya says, her "first love." She and I went to see the Boshoi a couple of times in London, when she still lived here, and when the Bolshoi were over doing their summer season (as they do every year - booking is now open for this year's performances.) We were broke, in those days, so sat high high up at the very very top, but it was beautiful, and totally worth it. I asked Anya if she'd give me a list of her all time top five ballets, and here they are:
"Swan Lake
Giselle
Romeo and Juliet
The Nutcracker
Sleeping Beauty."
From which we can surmise that Anya is a great romantic, as well as being chic. She has confided that she and Cosmo, her husband, have been looking to ballet for inspiration for a name for their soon-to-be-born daughter; I have no doubt that they'll find the most perfectly beautiful name imaginable, and I can't wait to hear what it is.
In the mean time, here are some images of the Bolshoi performing: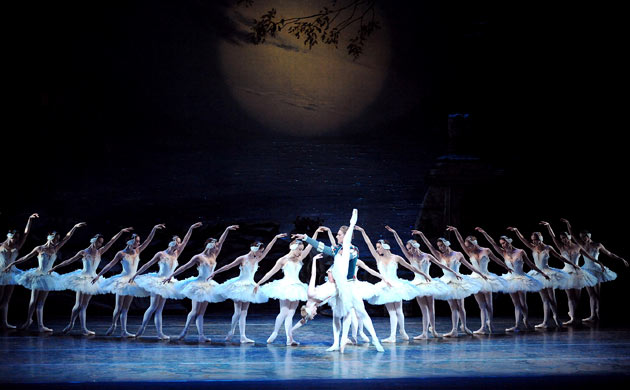 Swan Lake
Giselle (This is Natalia Osipova dancing - one of Esmeralda's middle names is Natalia)
Sleeping Beauty
The Nutcracker
And finally, because I love it, Natalia Osipova dancing Esmeralda
www.roh.org.uk