It was my husband's birthday today, the one day a year when I allow him full control over what we do. Which is not to say that he doesn't get input on other days - we have fairly similar interests so our wants tend to coincide - but today he got
absolute
control, which included deciding on financial outlay.
My husband hates spending money. If, say, I'm re-ordering my stationery from Smythson's, I can not consult him on the colour of the card or the ink because he'll be hopping around the room going "Do you
know
how much this all
costs
?" even after I have patiently explained that it truly is a money saving initiative as each correspondence card and envelope, once my discount is factored in, equates to roughly the same price as a (gilt-edged, three-inch thick) postcard. "Yes but because you've got a whole box of them, you write
so many
more letters than you would otherwise!" I hold my father partially responsible for this state of affairs: when we got engaged, he wrote to Andrew telling him that I had always spent 30% more than my income, and pointing out that 30% of nothing was nothing. Suffice to say, we still don't have a joint bank account.
Happily, for today, he found a completely free exhibition at Somerset House that he wanted to go to. And it was wonderful, and we wandered around planning our holidays for about the next ten years:
Simon Roberts, The Camel Estuary. This view will be familiar to thousands. It's basically heaven on the north coast of Cornwall, where we went last year, and where I went every year as a child, and where I hope that we'll take our children, summer after summer. See those tiny white houses on the right? That's Trebetherick, where a little bit of my soul resides, forever.
Florian Joye, Bawadi 2006. Aside from the fact that the photographer has got the most fabulous name imaginable, we decided that we'd like to go and build a paper city in the desert.
Elger Esser, Sacramento River. Both of us thought this was the Nile, which both of us have, quite seperately, sailed down. We were wrong. So now we'd like to go here. It looks lovely and peaceful (so much so that we perhaps shouldn't take the children.)
Jamey Stillings, Arizona Arch Segment. Andrew has got a thing about bridges, especially bridges like this. Sholto's second name is Isambard, after Brunel . . .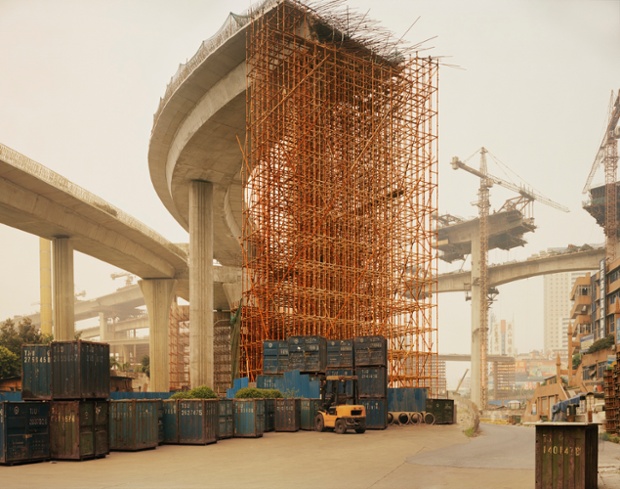 Nadav Kander, Chongqing 1. Andrew spends hours photographing the undersides of overpasses. This is catnip to him.
Mitch Epstein, BP Carson Refinery, California. The other day Andrew drove us the whole way to Mile End to look at a Victorian pumping station that isn't actually open to the public. He'd drive us to California tomorrow, given the chance.
Edward Burtynsky, Nickel Trailings no. 34. This is somewhere in Canada, and I love it.
Olaf Breunning, Complaining Forest. This was one of my favourite works. I think Sholto would like this too. Not that I necessarily want to go on holiday here - I'd walk here, yes, but I always find houses in forests a bit horror film-y, especially if there's also a lake. And I bet they're damp. There's that poem by Robert Frost: "Who's woods these are, I think I know/ His house is in the village though" - which to me proves my point: the owner of the woods didn't actually live in them.
And there were more, many many more wonderful photographs - indeed, so many more that Andrew remarked on what good value an exhibition it was, and bought me cake from Tom's Deli in celebration. I fear he would not say the same of the Picasso at the Courtauld, which is £6 for two rooms - but what rooms! And I found it fascinating, because I seldom give as much thought as I should to Picasso pre-1905, when he painted Les Desmoiselles d'Avignon and Matisse painted The Green Line, and Modern Art, according to the academics that taught me, began. And the permanent exhibition there is wonderful - I had actually forgotten just how good - and that is free. And it reminded me that I want to go back to the South of France really, really soon, simply because of this painting:
Georges Braques, Le Port a L'Estaque. The colour isn't nearly as good on a screen as it is in real life - seriously, if you go and see the Courtauld Collection for one reason only, go for this painting (though most of the works are so good that it's worth going to look just at them.) (I did actually go to L'Estaque one summer, purely on account of Braques' paintings. I took a two day detour en route to a wedding. . .)
Landmark: Fields of Photography is at Somerset House until the 28th April.
Becoming Picasso: Paris 1901 is at the Courtauld until the 27th May.