I'm currently researching a piece on Danish design. It's meant to encompass Georg Jensen and Royal Copenhagen and potentially several other important design houses, but I'm not getting very far as I don't seem to be able to stop looking at chairs. Arne Jacobsen's Egg Chair is so famous that I barely need to include an image - but I will, anyway - regardless, it's not necessarily one of my ideal chairs (I'd like one or two, but they wouldn't go in my main house; I'd have them in my imaginary chalet in the Alps, I can picture myself curling up in one with a good book, after a hard day on the slopes); no, the chairs that are currently taking prominent position in my dreams are Kaare Klint's Church Chair and Hans Wegner's Wishbone Chair (also called the Y Chair.) I love the simplicity of them, the honesty of them - in my mind's eye I can see a collection of them around a huge kitchen table, the kind that hosts many an endless supper.
Kaare Klint, Church Chair
Hans Wegner, Wishbone Chair
Arne Jacobsen, Egg Chair
Thoreau reckoned one only needs three chairs in one's house "One for solitude, two for friendship, three for society" - but we have
loads
. For a start, there are four of us, and then, well, aren't we all part of Cameron's 'big society' now? Politics aside, I often find myself entertaining rather more than two other people. Even so, we
possibly
have too many. We have a pair of armchairs in our bedroom, for instance; the children's bedroom has
two
nursing chairs (though that has been useful, at least once, in the past); downstairs, meanwhile, there exist chairs that serve solely as a place of repose for stacks of books and papers, as well of course as the overflowing cushion situation.
Which is why I know that I couldn't, in all seriousness, have any of the chairs above. I'd try to upholster them in some way - me and my staple gun - before glue gunning a pom pom gimp all around them. I'd totally destroy the simplicity and the honesty. Though if I had more rooms, I could keep them somewhere I didn't feel the need to frillify and ruffle-up. So, in my head, I'm placing them in the enormous kitchen of my enormous house. Which means that there is more room for other chairs, too . . . . :
Sam Edkins, The Anatomically Correct Chair. My friend Christopher just sent me these via email - the subject heading was simply "I want". Well, I want them too, for my dining room (incidentally Sam Edkins also does amazing cushions.)
Jolly Roger Chairs by Fabio Novembre for Gufram. These are going to go in the basement nightclub (my house is going to have to be a tiny bit naff in order to encompass these, but I think it's worth it. Plus, I can wallpaper the nightclub with Versace wallpaper - I've been wondering where to put it for a while now.)
This is just to demonstrate what the walls of my basement nightclub are going to look like. Thank you Versace.
This is more Versace wallpaper, slightly less obvious, and I love it so much that I'd have it upstairs, i.e. on the ground floor not in the basement - perhaps in the evening (rather than day time) drawing room (my house is so big that I have more than one option for retiring postprandially.)
Back to chairs: the S.T.Q.V.T.M. Chair by Pool. It comes in a limited edition of twelve - I need all of them, to go around my pool. They're going to look fab. The whole house is, actually.
Finally, back to Danish design. I just discovered that Georg Jensen made chairs, too. This is going to go in my chalet in the Alps with the Arne Jacobsen Eggs. I might have a different fabric finish, just to make it look a little more contemporary - also, I like the juxtaposition.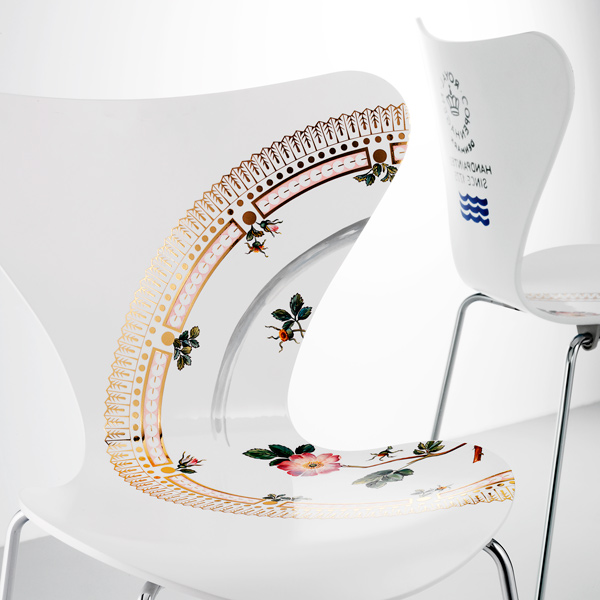 And finally finally, Royal Copenhagen had a hand in these. The design is by Arne Jacobsen, but the decoration is by Royal Copenhagen. I'm not sure where these are going to go just yet - but definitely somewhere. So, technically, I could continue to do nothing but look at chairs for this piece I'm researching.
So that's a lot of chairs. But I like chairs. I like sitting down. It used to be because I was wearing super high heels; there are shoes in my wardrobe that even back in the day, when I was wearing heels from dawn 'til dusk and then 'til dawn again - I wore 5 inch Louboutin platforms for 13 hours straight on my wedding day without really thinking about it - I could only wear for lunch or dinner. Now, I like sitting down because I'm usually a bit tired. And I find it helps, if I've got a lot to do, to sit and contemplate it for a while first. I even do this at the gym (which could be why I'm not loosing weight as fast as I might be . . . ) It's tradition in Russia to sit down before one embarks on any kind of journey; one encounters it in various of Chekhov's plays. But it's Chekhov who is making me question my chair addiction, to the extent that I'm wondering if I need fewer chairs in my life, and if I should spend a little less time in content contemplation: those three sisters never did make it to Moscow, did they?