Finally, daylight saving. The children had been getting up at five, which was just unacceptable. Call it six and I can deal with it. And the light evenings . . . heaven. It makes me thing that summer might actually come, and that it's worth dieting so I'll look good on holiday, and I think of heat, and dust, and the scent of jasmine.
But I don't travel with my children. So much so that they don't even have passports. This wasn't the plan, incidentally; I genuinely believed that life would go on as before, I would be one of those cool mothers that took their children on gap years, while homeschooling them - kind of
Hideous Kinky
but more organised - and that I was going to go to a wedding in the South of France four weeks after Sholto was born. I thought I could just stick him in a basket in the boot of the car and drive the whole way. Obviously,
obviously
, we didn't make the wedding.
But I still like the idea of travelling with them, and for that reason, my friend Natalia the superstar PR is my hero. She's been taking her daughter Amalia to Goa every year since Amalia was born. She just took her
entire
family to the shows with her because she was still feeding Amalia's little brother Conrad. Even the idea of London Fashion Week exhausts me so much that these days I can do no more than watch it on my computer; Natalia physically attended,
and worked at
, the shows in New York, London, Milan and Paris,
with her children
. And I have no doubt that Conrad too will be enjoying Goa before the year is out.
But I'm not as brilliant as Natalia. So these days I rely on escapism via video to get that whole holiday feeling. I really do believe that I can take the children further than Cornwall one year, and my first stop will be India, because there is no other country that I miss being able to go to quite as much. And, following the very enthusiastic reception they gave
Sholay
last week, I have no doubt that the children will love it. And now that I've discovered Sholto enjoys Bollywood films, well, there's no holding back. There's only so much
In the Night Garden
I can take, and, quite frankly, I've had it. (Actually, I'd had it after three episodes - they're practically all exactly the same. And the only character I like is Macca Pacca, with his endless polishing and arranging of his stone collection. If I were on that show, I would be Macca Pacca.)
Anyway, Bollywood. I love Bollywood movies - the scenery, the costumes, the singing, the dancing - and nearly everything I know about them comes from reading Vogue India and from snippets of information passed down by the Editor-in-Chief of Vogue India, Priya Tanna. She is totally up on everything,
everything
;
not only can she tell you who was in any film of note, she can also tell you who that star has been married to, might get married to, and details of their relationship with the director, other directors, other Bollywood stars. . . It's literally amazing. And I love the stars themselves. They are so beautiful. And they generate
so much
gossip, and the Daily Mail website is probably the website I check most often, and they've got a
whole section
devoted to India. It's amazing! So here are just a few of my favourite Vogue India Bollywood covers:
Deepika Padukone, shot by Paolo Roversi
Deepika Padukone again (she's my favourite, watch Om Shanti Om)
Aishwarya Rai, who's like the queen of Bollywood, especially since she married into Bollywood's royal family, the Bachchans. Here styled by my friend Anya Ziourova
Freida Pinto, Burberry model and star of Slumdog Millionaire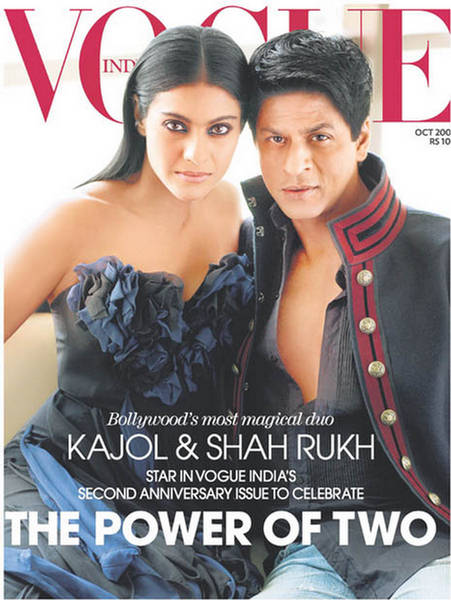 My pin up Shah Rukh Khan, who starred opposite Deepika in Om Shanti Om. He's pictured here with his wife.
Finally, and, more importantly, here is what I promised in the title: Priya Tanna's top five Bollywood films, "in no particular order."
"1. Dil Chahta Hai. Bollywoods coolest coming of age movie. Our very own Reality Bites. From the styling and the witty dialogues to the perfect casting, I'll always have a soft spot for this film.
2. Dilwale Dulhaniya Le Jayenge. Kajol fell in love with Shah Rukh Khan and the entire nation of movie goers fell in love with falling in love, the Yash Chopra way. Beautiful cinematography, pure chiffons and unadulterated love.
3. Angoor. Our Bollywood version of a comedy of errors, it's one of the earliest laugh aloud films and is still making me laugh two decades later.
4. Lagaan. Aamir Khans most unforgettable performance as a fiesty village hero who rounds up and leads a team of half baked players to take on the British at a colonial cricket match. What's not to love!
5. Cheeni Kum. Older man, younger woman, a bit of hell's kitchen thrown in and you get a sophisticated drama made from food, quick witted repartees and brilliant performances by Amitabh Bachchan and Tabu. Tres cute."
My Sholto-friendly summer viewing plan is now totally sorted.