I wanted to be a front-line war correspondent. So much so that, in between internships at Christie's and the V&A, I also interned at the Council for the Advancement of Arab British Understanding, the Centre for the Study of Terrorism and Political Violence, and the Daily Star, which is the newspaper that is published with the Herald Tribune in Lebanon.
Alas, it was not to be. And occasionally now - when I get emails saying things like "Would you mind awfully going to LA to interview Robert Pattinson," - I don't mind. Plus, I think it would have been very hard to get married and have babies, which was very much part of my life plan, had that been my profession. And, I probably would have been rubbish. The best anyone could have hoped for is that I would have blogged about dictator style - "Ooh, have you seen the marble tiles in Gaddafi's bathroom? And the gold taps? Top of my wish list
this
week. Next week: Hot Tubs in the Desert." As it is, the only time that my interest in politics has been at all useful was when I was able to tell any fashion editor who would listen that the various different colours of the scarfs that Balenciaga sent down the catwalk many seasons ago actually related to one's affiliation to certain Palestinian factions:
Okay so Nicholas Ghesquiere pimped it up a bit, but basically it's a keffiyeh. Tres chic, non? This one's black and white, which became associated with Fatah. Red and white means Hamas. I should add that it is only in the Palestinian Territories that these colours have any political meaning, to most of the rest of the Arab world they're just scarves.
So when I heard that there was an exhibition of Sean Smith's work at the Dissenters' Chapel in Kensal Green Cemetery, well, I was there even before it opened, husband and both children in tow. Sean Smith is one of my heroes. He has been on the Guardian staff since 1988, and is best known for his work covering the conflicts in Iraq, Afghanistan, Lebanon and DR Congo. He's won awards. Many of his photographs are in the Imperial War Museum. And now, for the first time, thanks to New Artists (aka Arthur Hobhouse and Paddy Barstow)
some
of his work is available to buy.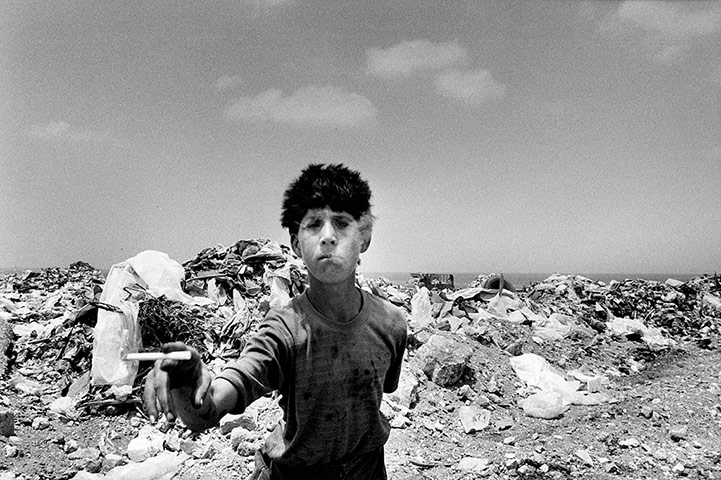 This one is, for instance. It was taken in Beirut in 1997, and shows a boy taking a break from scrabbling through the rubbish.
I kind of hoped that Arthur would send me some images. But he didn't. Which is fair enough as I think he's rather busy preparing for Venice (the Biennale opens this week and I
wish
I were going, but buggies plus all those bridges . . . . ? Maybe the
next
one.) So here are some which aren't in the exhibition, which is actually better - it'll whet your appetite to go and see what
is
.
I can't pretend, incidentally, that the images aren't harrowing. And I found the exhibition particularly emotive having just read the extract in the Sunday Times from the book being published about Marie Colvin's last despatch from Syria. It made me particularly glad that I am not a front-line war journalist, and I am even more admiring of those, like Sean Smith, who risk their lives to get the story out. And one of the things that I most love and admire about Smith's work is that he doesn't always focus on the obvious. Some of his most poignant images are those showing the everyday, such as this one: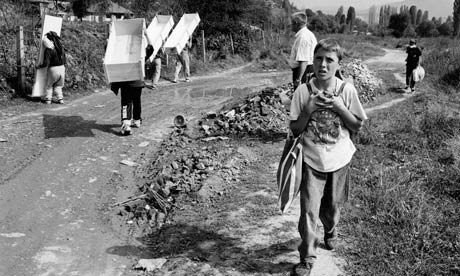 This is Kosovo. A boy goes to school, while men carry coffins in the other direction.
And this one, back in Beirut. Waiting to leave. If the couple in the picture have anywhere to go.
This was taken in Iraq, and is in the Imperial War Museum.
Interspersed among some of Smith's conflict work are photographs that he took in the UK, dealing with inner-city disturbances of the 1980s, heroin addicts, and the inside of abattoirs. And even if you're not into any of these subjects, the exhibition is still worth a trip because of where it is - there has never ever been an exhibition in the Dissenters' Chapel before.
The Dissenters' Chapel, built in 1831, was the first purpose-built Noncornformist chapel to be built in a public cemetery - and the Kensal Green Cemetery is London's oldest public cemetery, and currently a riot of buttercups, cow parsley and daisies. It's where Brunel is burried, after whom Sholto is named (he's Sholto Isambard), and William Makepeace Thackeray, and J.W. Waterhouse (Ophelia being one of the names I most wanted to give Esmeralda.) And Freddie Mercury was cremated in the crematorium.
Oh, and if you go, there are catacombs downstairs . . . . (These totally did it for both Andrew and Sholto, incidentally.)
Sean Smith is at the Dissenters' Chapel, Kensal Green Cemetery, for approximately the next month, theoretically from 10am every day. However it's by appointment, so it's worth giving Arthur Hobhouse of New Artists a ring on 07884 101624, just to make absolutely sure that someone is going to be there.