I'm incapable of throwing clothes away.
Any
clothes. I have trunks stuffed with cheese cloth shirts, silver petticoat dresses and Ken Market hairy Yak coats from the mid-nineties; pairs of Patrick Cox Wannabes, pleather mini skirts and the tackiest Karen Millen corset-style tops from the turn of the decade; sample sale Roland Mouret pencil skirts, an array of dateable-to-the-precise-season 'it' bags (when did you last see anyone carrying a Marc Jacobs Stam bag?) and numerous Issa and vintage Diane von Furstenberg wrap dresses from the days when I went to an office.
I'm kind of hoping that Esmeralda will want to wear all these clothes, and that my storing of them won't have been in vain. But at the very least, I figure I've got the beginnings of a great dressing-up box - without which no nursery is complete - and the old (and broken) Globetrotter trunks are perfectly serviceable for that purpose:
Think a pair of these, but in navy, and more battered. And, because I rescued them from a fashion death (they were being purged by the Vogue International fashion cupboard on account of their state of disrepair) they're covered in VOGUE tape, and cyrillic lettered stickers from glamorous sounding airports.
This is a totally gratuitous image of the Globetrotters that I hope one day to be given, by someone - anyone. Erdem designed the lining, which is so exquisite that I think I'd just end up having them open, in my bedroom, on a permanent basis.
It's currently impossible to scroll through the Daily Mail Showbiz section without coming across images of the pregnant Duchess of Cambridge, or Kim Kardashian, or Danielle O'Hara and her baby shower. I don't even know who that last person is, but still I look at the pictures, and wonder where her crib is from - despite the fact that I don't think we're having any more babies, and neither of my children ever slept in their Moses Basket anyway. But there's something addictive about it all; I find the endless articles speculating on the possible design of the Royal Nursery, and the endless style pieces on dressing the Royal Bump, totally irresistible, and they make me want to have more babies and overhaul our nursery right now.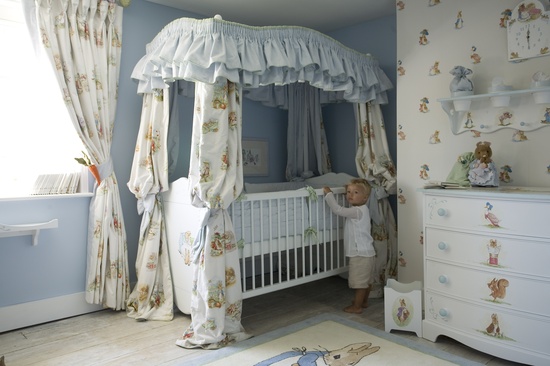 The furniture in the speculative Royal Nursery pieces is nearly always from Dragons of Walton Street, because that is where Princess Diana bought the Princes William and Harry's furniture from, and it is adorable. I used to walk past the shop every day on my way to work, and dream about having my own children, just so that I could shop at Dragons.
But, when it came down to it, I didn't actually go there. Rather, the children's bedroom contains my Grandmother's nursing chair, the bookshelf that I had on my wall as a child, and quilts that my mother-in-law stitched by hand, as well as rather too many cushions and other quilts and cot bumpers and cot tidiers and bunting (obviously a nursery essential) from Chelsea Textiles and The Nursery Window.
I love the Nursery Window's Rabbit Trellis fabric.
The one thing that the children's bedroom does have in common with the Dragons nurseries, however, is the fact that the walls are largely covered in Alice Peto prints (as well as drawings by my Grandmother.)
Alice Peto's Elephant Mother and Baby
Alice Peto's
Giraffe Mother and Baby
Aren't they heavenly? These ones were commissioned by Dragons, and there are four more Mother and Baby images still to come. And just think: if you put them on your walls, you may discover that your child and little Prince or Princess x have been looking at the same pictures, which will be something for them to bond over when they meet in later life. (Should you be the sort of person who thinks like this. And surely there's a tiny bit of everybody that thinks what if . . . .?)
But all this thinking about perfect nuseries led me to re-think the dressing-up box - also because I found literally the most perfect dressing up box in the world at the Spring Decorations Fair a couple of weeks ago.

It's a vintage campaign wardrobe from Andrew Bewick on the Lillie Road, and it's been covered in a 1930s hand-rolled tulip toile (Andrew still has the original chintz that it was covered in, but it's much faded, and anyway the tulips are just divine.) The door is open so that you can see that there is actually room to step inside and get changed, and it's on castors so it can be rolled around the house and out into the garden (in my mind's eye my super talented children are putting on plays that they've made up, at the foot a centuries old Cedar tree at the bottom of the lawn of my fantasy Jacobean manor house in Dorset - and most plays have more than two parts so I probably do need to have more children.) It truly is the dressing up box of my dreams. And I currently want it more than anything from Dragons or the Nursery Window or Blue Almond or anywhere else on Walton Street.

www.globetrotter1897.com
www.dragonsofwaltonstreet.com
www.nurserywindow.co.uk
www.alicepeto.com
Andrew Bewick, 287 Lillie Road, SW6 7LL