So, it transpires that everyone to whom I've verbally recommended Edith Wharton's
The Decoration of Houses
already knew about it, they just hadn't told me. Anyway, I've been reading it, and it's brilliant, and occasionally hilarious. It contains such helpful suggestions as the correct number of doors to have leading into one's ballroom, for instance, which is perhaps not as relevant today as it was in Wharton's time, and, more specifically, in Wharton's milieu (incidentally, she prefers two sets of well-proportioned doors to one over-large opening, she finds it both more aesthetically pleasing and better for the flow of guests). Below is a picture of The Mount, the house that she lived and wrote in. As you can see, there's room for any number of doors.
My friend Simon pointed out that the fact that she wrote this book should come as no surprise to me, considering Lily Bart's dreams of redesigning her aunt's house in the
House of Mirth
, once she'd inherited it, not to mention the general obsession with decorating in
Custom of the Country
. I always loved the description of Countess Olenska's rooms in
The Age of Innocence;
reading
The Decoration of Houses
, I am now learning where a door should be positioned in relation the the hearth, and realising that Countess Olenska's rooms perfectly complied with Wharton's ideals. (Oh, and while we're on
The Age of Innocence
, if anyone has not yet read Francesca Segal's
The Innocents
, a contemporary re-working set in North West London's Jewish society, it was absolutely one of my favourite books of last year.)
Moving on: one of Wharton's strongest beliefs when it comes to the interior design of a house is that the architect and the decorator should be, if not one and the same, at least from the same school of thought and able to work together.
The Modernist architect Erno Goldfinger's house at 2 Willow Road, NW3, adheres perfectly to this canon - he designed the house, and all the furniture. (Yes, the Bond villain Goldfinger was named after the architect, who sued Ian Flemming; they settled out of court. But how cool to have a Shirley Bassey song about you, even if it isn't actually you?)
2 Willow Road is amazing - both the design and the contents, which includes several important pieces of art (Henry Moore etc.) as so many of the Hampstead-based artists of the 1930s were good friends of theirs. (Wouldn't you have loved to have lived in Hampstead in the 1930s? After you'd lived in Paris in the 1920s, that is? The great and the good, or rather, the creative and interesting, of 20s Paris are currently hanging in the Man Ray exhibition at the National Portrait Gallery; Erno Goldfinger met his wife Ursula in Paris at that time - he was studying at the Beaux Arts - so there's another 20s Man Ray at 2 Willow Road, of Ursula.)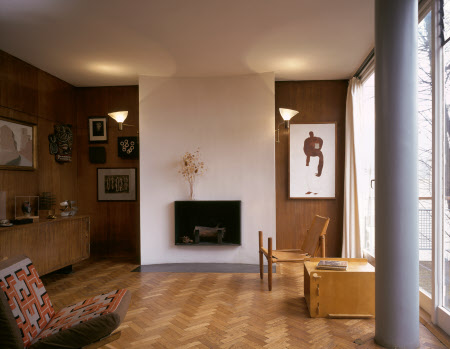 Obviously, I now want to redecorate our house (flat, actually, but it has two floors so I call it a house) from top to bottom, both in accordance with Edith Wharton's edicts, and with Goldfinger's Modernist principles (though they don't always coincide - sliding doors being a prime example: Goldfinger makes much use of them, Wharton declares that she doesn't see the necessity of sliding doors as, if the proportions of the rooms and the doors are correct, there should be no need to want for space . . . . I think, living in just under 1000 square feet in London, I might follow Goldfinger's lead on this one.)
In the mean time, I will content myself with watching umpteen episodes of Grand Designs, and watching for flats that come up for sale in the Goldfinger-designed Trellick Tower (which is also Sholto's favourite building. He spends much time trying to recreate it in Lego.) Oh, and pouring over the photographs in
Edith Wharton at Home
by Richard Guy Wilson and John Arthur, the review of which in March's World of Interiors being what led me to discover her book on decorating in the first place, and thus inspired the trip to 2 Willow Road.
2 Willow Road is owned by the National Trust, and tours are led around the house at 11am, 12am and 1pm every day. Open viewing is between 3pm and 5pm. (Top tip: it's freezing. The National Trust don't appear to heat it. Wear a LOT of clothes.)