Lent is nearly over, the days are finally becoming warmer, and The Flowered Corner on Ladbroke Grove - my local, and preferred, flower shop - is full of anemones, ranunculus, hyacinths and tulips, all crying out to be bought, taken home, and arranged in vases around the house, where they will distract people from the buildup of dust. (I'm training up Sholto to be our cleaner. He's actually quite into it, and even has his own very special sheepskin duster which he bought in Masham Market on our last North Yorkshire trip; sadly, the fact that he's only about two foot tall means that he can't reach everything yet. He'll grow.)
To return to the point: everything I know about cut flowers, I learnt from Anna Harvey, the eternally chic ex-British Vogue Fashion Director, now Editorial Director of the majority of the international Vogue titles (she is the woman behind the launch of Vogue in Russia, India, Turkey, the Netherlands, and most recently Ukraine - to name but a few . . . ) As her assistant, one of my jobs was to go and choose the week's flowers for her office from the barrow on Bond Street.
And, as often becomes the case, I caught her aesthetics. It is entirely due to Anna that I prefer to see a single type of bloom in each vase, and usually of a single hue (though I do love a mixed bunch of ranunculus). It was she who made me see that flowers are an essential part of entertaining, even if the entertainment in question is a work-related meeting. She taught me how to care for flowers, and how to make them live as long as possible. "I love flowers, I really do," she explains. She once described herself in an interview as a 'cabbage rose sort of person', and "I think I am in every way. I love pretty things. I admire minimalism, but decorative is more my bag." So here are her tips:
- Only buy what is in season. Peonies may look tempting in March, but they're not ready, and won't open properly.
- Find a good florist, and form a relationship with them - they know a lot about their stock, and they will let you know what is best. (Anna is a regular both at the afore mentioned barrow on Bond Street, and Only Roses on the Brompton Road.)
- Trim an inch off the bottom of the stems as soon as you get your flowers home.
- Water needs checking and changing regularly; it really does prolong life.
- Another couple of days can often be achieved by cutting down the stems when the heads start looking a bit droopy.
- When the heads of roses start to bow, they can sometimes be revived by being laid flat in a luke warm bath, so that the water doesn't have to work against gravity to reach the flower itself.
- When it comes to arranging the flowers, some, like roses, work better in an opaque vase (their stems turn the water green, not a pretty look); others, such as peonies or anemones, look heavenly in a glass bowl.
- If you're buying for a specific occasion, such as a dinner party, buy two or three days in advance. Tulips, roses, ranunculus, peonies, anemones and many others besides look much better when they've started to open.
- If in doubt, buy more flowers than you think you will need. Nothing is more miserable than a half empty vase.
- Finally, if you can't decide what to buy, go for roses. And even if you are going to put them in a tiny jug at home, buy the long-stemmed variety; the longer the stem, the fuller the head. (Although, having said that, spray roses arranged in jam jars look adorable.)
Of course, Anna is not the only person working in fashion to have developed a long lasting love affair with flowers: roses, poppies, daisies and more are ever finding their way onto the catwalk and into shoots (and some houses will forever be associated with a certain flower; I can not see a camellia without thinking of tweed, gilt chains and quilting.) Anna, who has more style than anyone else I know, cites the rose headdresses from the Spring Summer 2013 Dior Couture collection as being a current source of inspiration; as for shoots, I happen to know that a certain Paolo Roversi shoot for Vogue India would probably rank among one of her all time favourites, if pressed.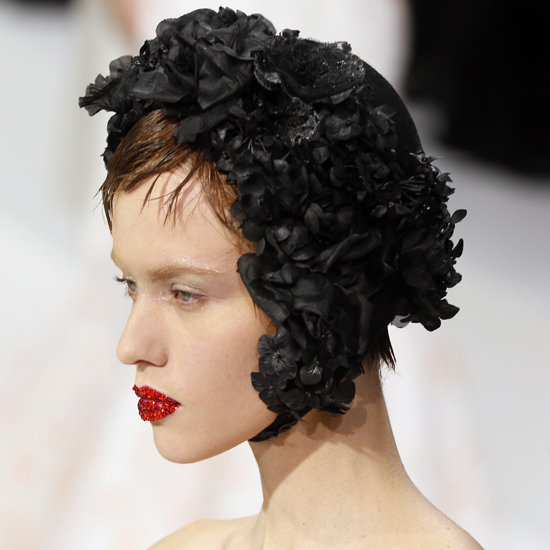 Dior Couture, Spring Summer 2013
Paolo Roversi for Vogue India launch issue, October 2007
Sadly, I'm unlikely ever to be a couture customer. But there are always cabbage roses, Anna's favourite:
The Flowered Corner: 110A Ladbroke Grove, 020 7221 3320
Only Roses: 257 Old Brompton Road, 020 7373 9595