Besides us, there are two other families that live in our house: a herd of tiny elephants lives upstairs, and a colony of rabbits lives downstairs. Every so often - as with any family - there is growth. Here is an image of the rabbit colony's newest addition: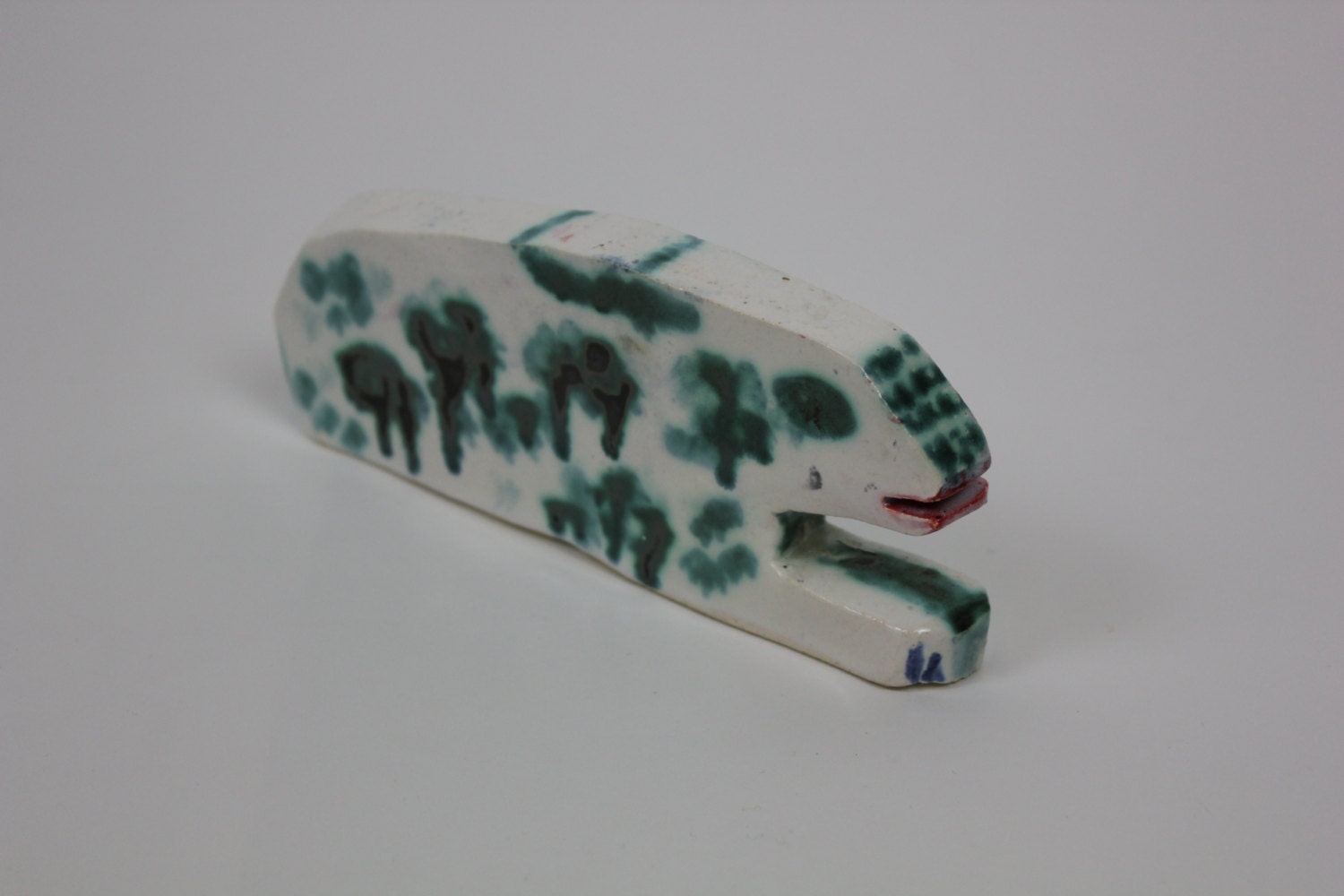 The timing of his arrival seems particularly apposite due to the time of year, and already he goes by the moniker of 'The Easter Rabbit' (which distinguishes him from, say, the Valentine's Rabbit, the softest of taxidermied bunnies that my husband gave me on Valentine's Day, or My Rabbit, which I fashioned out of clay aged nine, and which sadly no longer looks quite the same after rather too vigorous a game with Sholto, who is not getting his paws anywhere near the new rabbit.)
Anyway, the Easter Rabbit is by Rose de Borman, the textile and ceramic artist whose works I have fallen head over heels in love with, not least because she also makes cushions: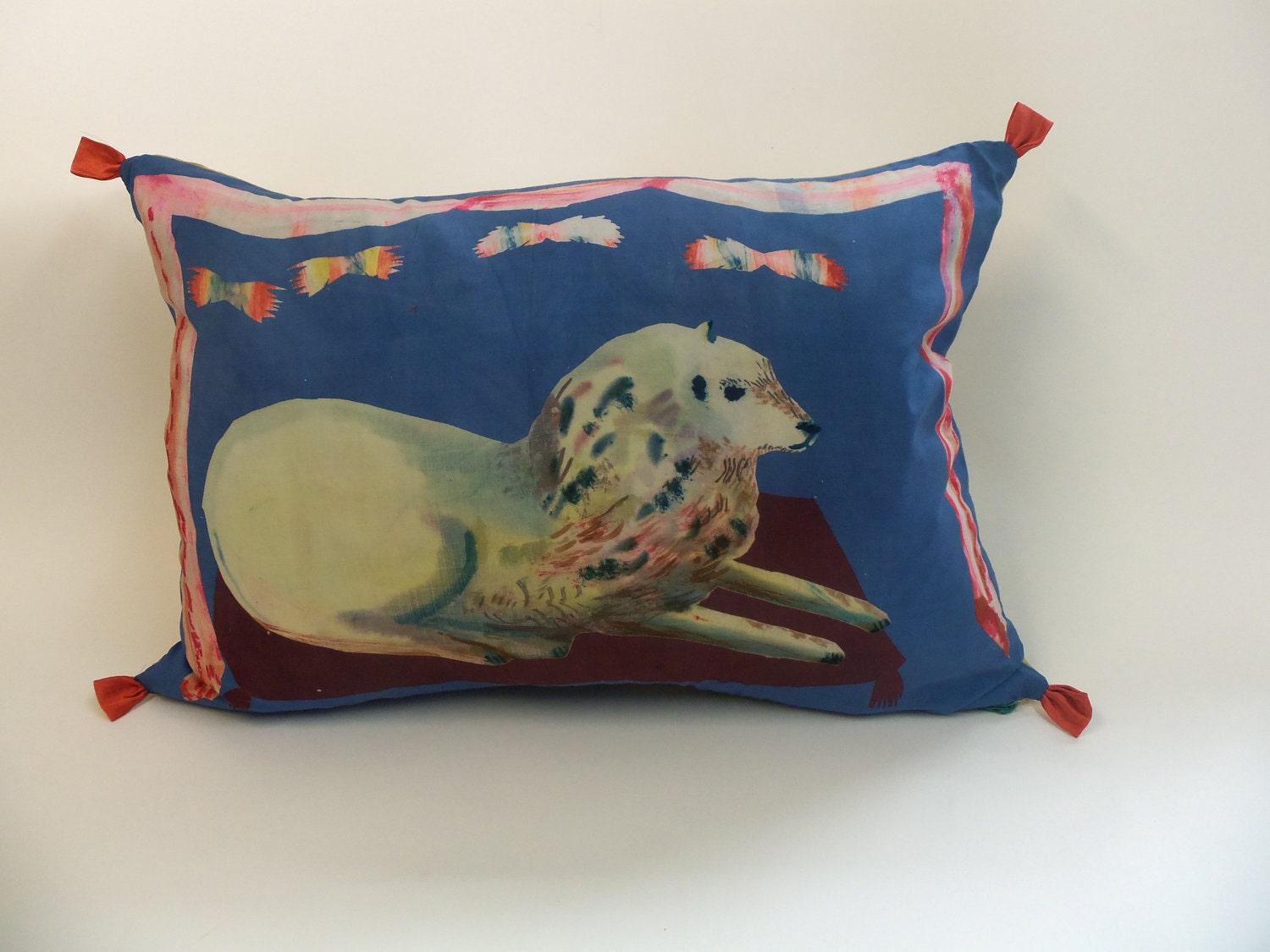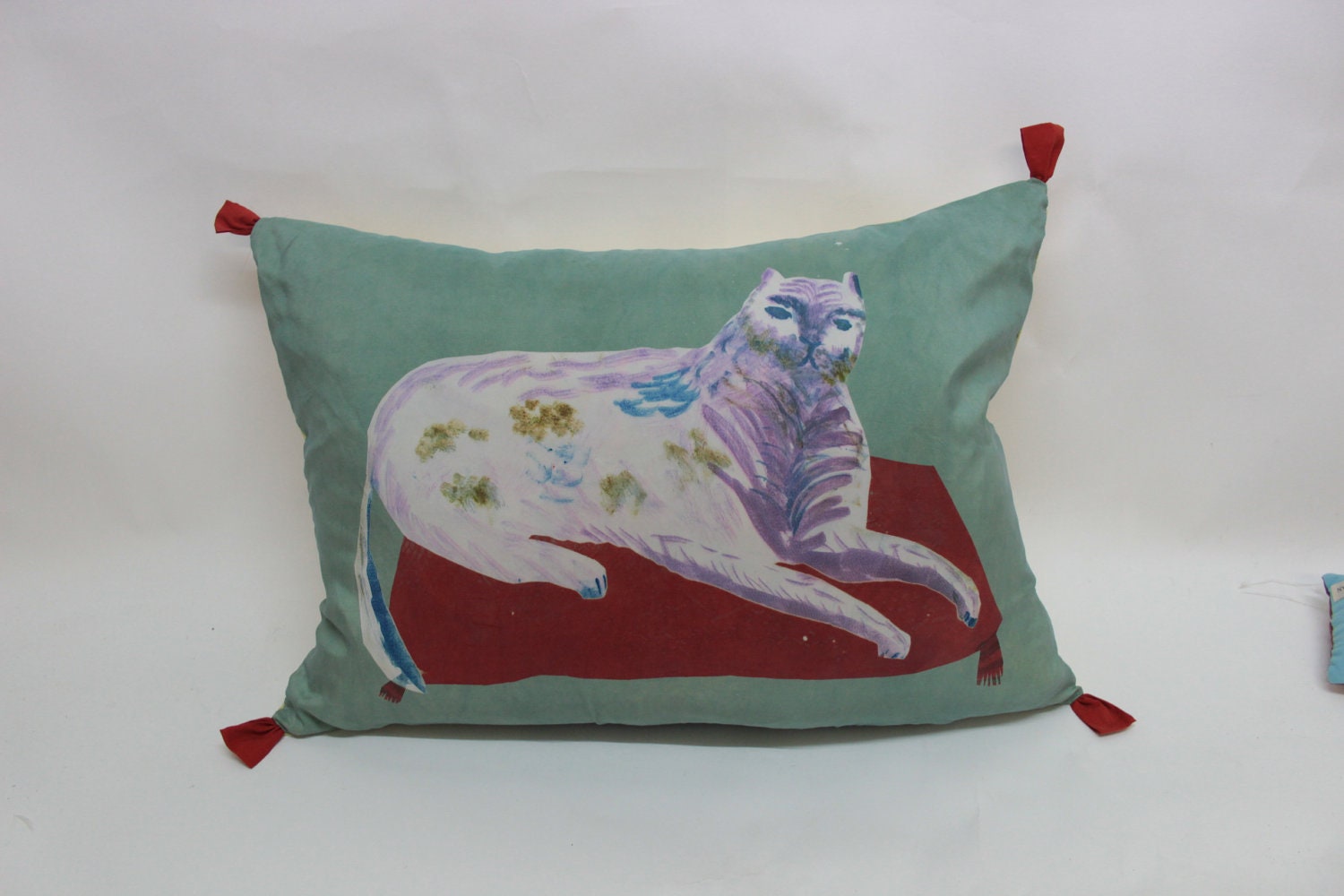 Seriously, seriously, did you ever see anything so heavenly? I want them all. But, as mentioned earlier in the month, my husband has banned my shopping for new cushions this year. However, those two fish in the bottom image - they're not actually cushions, they're lavender bags, albeit of cushion size! Which also come as bleeding hearts: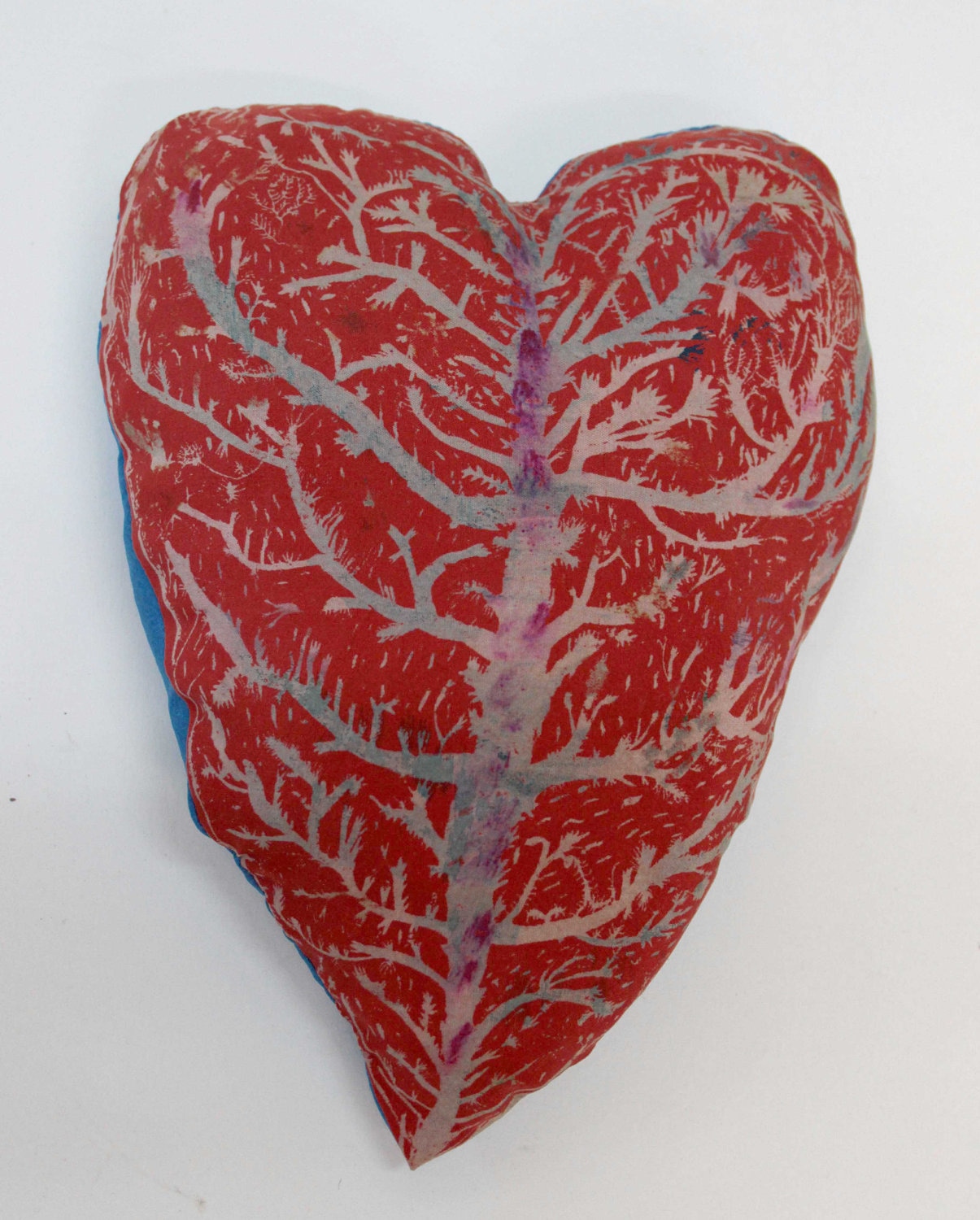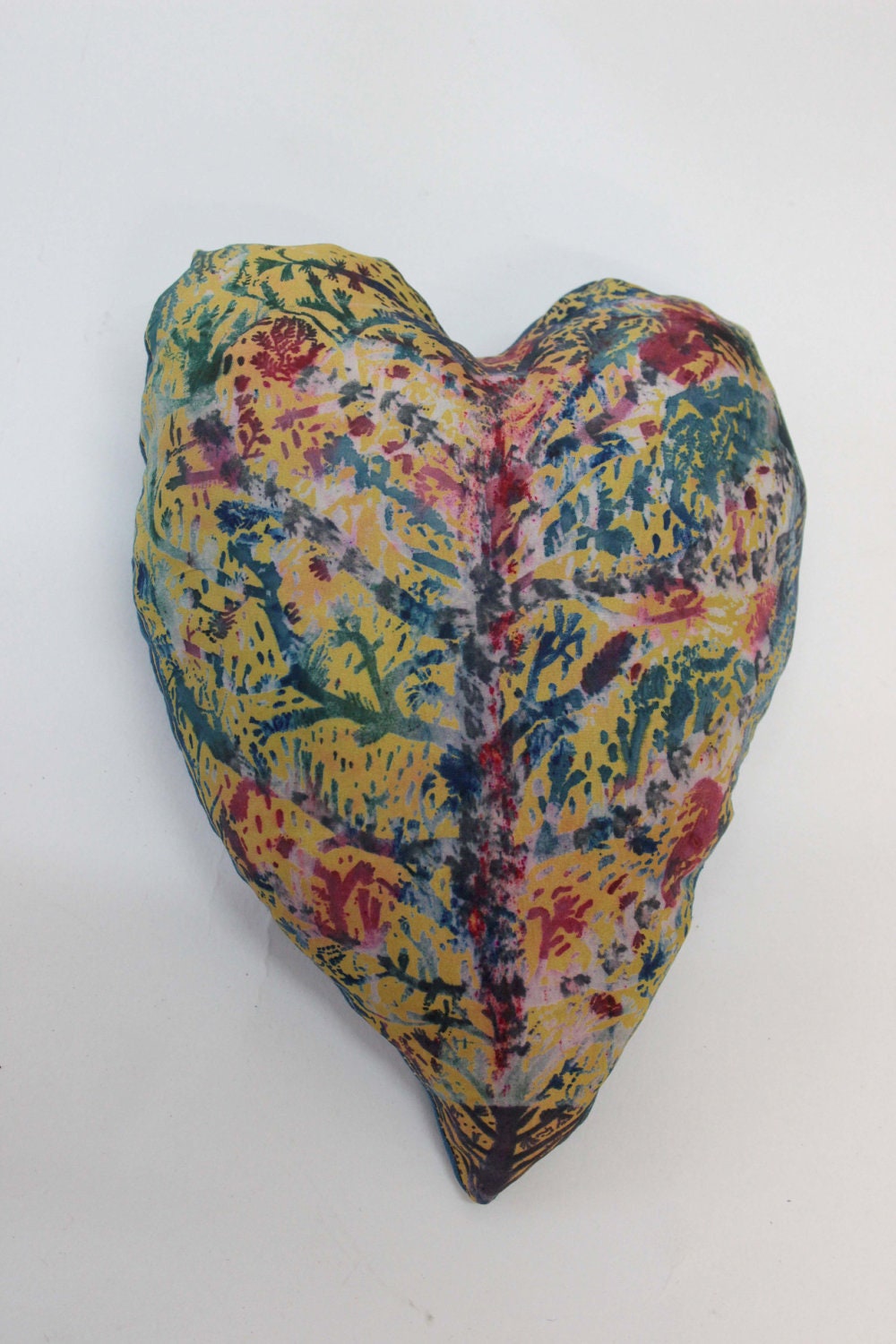 It's possible that there are one or two downstairs on the sofa . . . .and they're currently my favourite thing to give as a present.
But back to Rose herself. So infatuated am I that I emailed her what basically amounted to a fan letter, which she very kindly answered:
She's always loved animals, she says, and has a little Jack Russell terrier (Sholto would like this. One of his best friends is a Jack Russell called Kipling. Kipling is coming for Easter. Sholto is beyond excited.) Rose has grown up in the city all her life, "so I haven't been around as many animals as I would've have liked to, perhaps that is why they always look a little fantastical in my drawings." She cites folk art as a major influence: "When I am stuck with my work, it's hand made objects by largely untrained artists that I return to, in life and in books - to try to remember the joy in making, and affection for the object you are creating, without pressures of what it is or how it will be seen by a larger audience." She's also somewhat preoccupied with colour, telling me that she works intuitively through trial and error, and that she "can't finish anything unless the colours are just right."
"Without thinking about it directly I realise that Ghanain Fante flags must have been an inspiration for the cut out technique and simplicity of shapes in my cushions and other textile pieces," she continues. "The bleeding heart lavender bags were probably an outcome of my love of Mexican folk art, textiles and imagery mixed with a desire to make something in a heart shape but for it not to be cute. However, I also think that there is an Englishness to my work and I love British painters such as Christopher Wood and Ben Nicholson."
Ghanain Fante Flag
Ben Nicholson, Cornish Landscape
Christopher Wood, Zebra and Parachute
Hearing all this makes me love Rose's work even more, because I too love folk art, especially Mexican folk art, and I adore Ben Nicholson and have specifically chosen one of his Cornish landscapes as they're my favourite; I holidayed in Cornwall every year as a child, and have often been to the Barbara Hepworth Museum in St. Ives (Hepworth and Nicholson were married for a while) and I sort of feel that somewhere along the line, I must have trodden lanes and beaches and fields that he, too, had walked along or through. I know absolutely nothing about Ghanain Fante flags, though.
Rose reminded me to feed the rabbit before she signed off, evidence that she retains affection for her family of ceramic animals. So here's an image of some more of them to finish. (The Easter Rabbit lives with me, though.)
Rose de Borman's work can be viewed and bought at www.rdeborman.co.uk