The Isabella Blow show at Somerset House opened today. It is brilliant - so much more interesting than your average fashion exhibition. And it is very Isabella: having worked at Conde Nast at the same time that she was Fashion Director of Tatler, I recognised many of the pieces on display, remembering seeing her in them. And hearing her voice on videos, smelling her scent (the exhibition rooms all seemed to have been liberally sprayed with Fracas) I was transported back to spotting glimpses of her in the Vogue House loading bay (invariably sitting in the middle of chaos, amazing Philip Treacy confection on her head and dark glasses protecting her eyes from the stygian gloom of what was essentially a garage, reading the International Herald Tribune, smoking a cigarette, and basically looking fabulous) or of being with her in the unbelievably slow Vogue House lift, in which she'd tell everyone in there intimate details of her immediate life story in the time it took to get from the third to the ground floor. And Isabella could pack a
lot
in.
But I don't have any particularly amazing Isabella stories, not first hand stories, not stories that aren't just gossip. (And, towards the end, the gossip got mean, and sad.) But one of the people who does have worthwhile - and often magical - tales is Daphne Guinness, who loved Isabella, and who owns all the clothes in the exhibition. I interviewed her about this time last year, and she told me about how she 'had' to buy Isabella's wardrobe, because she couldn't stand to see it 'being picked over.' She then sold off much of her own couture collection, and with the proceeds set up the Isabella Blow Foundation, which, among other things, funds a scholarship at Central St. Martin's, "because Isabella was all about new talent, and bringing on young designers."
And that is what I love so much about the exhibition. All the early McQueen, the endless, endless hats (will anybody ever celebrate millinery like she - or Anna Piaggi - did, ever again?) the Jeremy Scott, the Junya Watanabe, the long-before-
Strictly
Julien MacDonald - I could go on, of course, but it would just be a roll call of designers' names.
And anyway, it's a fashion exhibition, and when it comes to fashion, well, we all know that a picture speaks a thousand words:
That's not me, obviously, staring at the McQueen.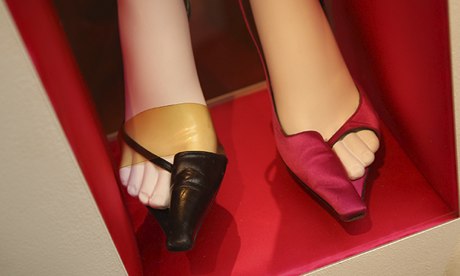 Isabella was spotted by Andy Warhol on account of her odd shoes . . .
Photographed by Mario Testino
There's more, so much more. I haven't even mentioned the endless catwalk videos from various shows - I could watch catwalk shows
forever
. Seriously. They're mesmeric, the good ones.
And I'm now rather hoping that my husband gives me a bottle of Fracas for Christmas. Because, smelling it again, I was transported back to my twenties, when life seemed full of promise (I don't mean to sound melodramatic, obviously life still has plenty of promise, but it has a direction now that it lacked then, when I probably still thought I could possibly be a popstar, you know, if I just gave it a whirl) and when Isabella was still alive, and filling the pages of Tatler with the bare bottoms of her willing interns. (Maybe I do have
some
stories.)
Isabella Blow: Fashion Galore! is at Somerset House until the 2nd March, 2014. The ice-rink is open, now, too - can you imagine a happier afternoon than a combination of the two?