Lilly Pulitzer Chin Chin
I'm having a pink and green moment, and I attribute it entirely to having just spent nearly a week in a suite at the Beverly Hills Hotel. I was there for work, but at the invitation of Dior, so it was seriously fabulous and utter bliss. The whole hotel made me think of the late Lilly Pulitzer, the Palm Beach based queen of prep; I
love
the above wallpaper - it looks like paisley, but look closer: elephants! I'm almost considering wall papering bits of my bedroom in in, or perhaps making a headboard out of it - I think it's actually a fabric. (I'd do the bathroom as my first choice, but I've just redone it in shades of white, cream and grey - with the odd pink spot - and my husband will have a fit if I tell him that I think we should start again. Even if we haven't actually yet finished the chic grey look.)
So, the hotel:
The entrance, opposite a little park on Sunset Boulevard where George Michael got booked for soliciting. 'Gotta have faith' is still scrawled on the wall of the public loos.
The amazing, amazing pool, where the uber chic attendants wear tennis whites.
The wallpaper that lines every corridor.
The Polo Lounge where I had breakfast everyday - French toast made with Challah bread and vanilla butter, accompanied by pecan nuts and banana - literally one of the most delicious things I have ever eaten. The first day Hedi Slimane was at the adjacent table; I now totally understand why he moved the Saint Laurent design studio from Paris to LA.
After months of a seemingly eternal winter, days in sun-soaked California were a very welcome change, and I spent much of the time fantasising about moving our family to Malibu: living life on the beach, hiking in the Santa Monica hills, eating at Nobu every night and running around in Lilly shift dresses during the day. I pictured a house similar to one of the ones featured in Ed Ruscha's contact sheets for South Pacific Highway, which are currently being exhibited at the Getty: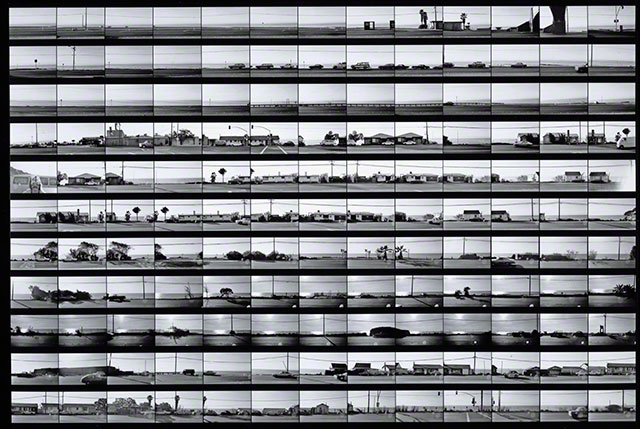 You can kind of see what I mean. Maybe.
But now I'm back, and even before scattering little Beverly Hills sourced knick knacks (the hotel had a gift shop,
disaster
) l have realised that there is actually a fair bit of pink and green already in evidence. But of course there is: peonies are my favourite flowers, and my favourite Laduree macarons are rose petal and jasmine. But there's another important influence too: my friend Elizabeth, who, between graduation and marriage, lived in the most perfect single girl flat on East 78th Street, in an apartment that was built in 1908 as tenements for TB victims, and which she decorated predominantly in those shades. She did it all on a shoe string, and yet it was literally the prettiest flat ever, thus proving that one doesn't necessarily need a vast budget for interior decoration, and that you can make a shoebox look like home, just so long as you've got imagination (trust me, I've seen the before pictures . . . ):
The paint colour is Benjamin Moor 2029-60 Pale Vista (the pink, which you can't see but which she painted her bedroom with was also Benjamin Moore, 2003-70 Pleasing Pink) - you can't get Benjamin Moore paints in the UK but Zoffany's Half Ice Floes is a perfect Laduree green, and Farrow & Ball's Middleton Pink is confectionary heaven. The sofa is from Crate & Barrel, the demi-lune table was made by Elizabeth's father, and the lamp was from Anthropologie; Elizabeth made the shade herself. The chandelier was rescued from the Vogue US fashion cupboard, where it was languishing, lost among the shoes and other accessories.
Elizabeth found the chair in a yard sale and had it reupholstered, the rug, which you can just see, is from the souk in Damascus (which, sadly, is not the safest of destination shopping locations at the moment.)
Elizabeth always, always has flowers in her house.
And then Elizabeth got married, and left the perfect single girl flat. She met her husband online which is a story I recount endlessly to anyone and everyone who'll listen: "You
can
find love on the internet. It
truly truly
works. To quote from George Michael:
You gotta have faith!
" (Elizabeth is one of a kind though - just as only she could have made a nothing flat that special, so she has always had the kind of faith - or at least hope - that can move mountains.) And they each supported each other through career changes, taking the kind of chances that many people never dare to, and they were the right chances, for now they live in near palatial splendour in Washington, in the kind of house that is basically the American dream, and then some:
But the spare bedroom is painted in the same green that her little New York flat was, and the bedlinen, by Yves Delorme, is a perfect match.
So, thinking of Elizabeth, and Lilly Pulitzer and the Beverly Hills Hotel, I've pulled my pink and green St. Tropez market-bought baskets out of the cupboard, and put them in the grey and white bathroom, filling them with magazines and other such essentials (hmm, nappies. Not so glam, but Esmeralda's still a bit young to be potty trained.) There, accompanied by the pink Beverly Hills Hotel rubber duck that I bought the children, and the pink and green bath crystals in a jar, they make me feel happy and sunny and full of faith and hope every time I look at them.
www.lillypulitzer.com
www.beverlyhillshotel.com
www.zoffany.com
www.farrow-ball.com
www.yves-delorme.co.uk