I've been a fan of Grayson Perry, and his wife, ever since they spent nearly half an hour talking to me at the Serpentine Summer Party one year, while I waited for someone - anyone - I knew to turn up. I was young, and nervous, and covering it for the social pages, so had to be there from the very beginning. And it was raining, and cold, and I had just got back from some festival and, well, I really wasn't feeling it that night. Covering parties always terrified me. Grayson and his wife saved that one. They were so kind.
I watched every episode of the hilarious and fascinating programme that he made researching the British class system - it was like The Sloane Ranger Handbook crossed with Victoria Mather's Social Stereotype columns that used to be in the Telegraph Magazine, crossed with Martin Amis's London Fields - ahead of starting these tapestries, which are a contemporary re-working of Hogarth's A Rake's Progress (those paintings, by the way, are in the Sir John Soane Museum, which is one of my absolute favourite museums in London and bizarrely nearly always empty, which confuses me. Does no one know they're there? They're one of the greatest stories ever, in paint - social history at its most fascinating - they're the paintings that made me do History of Art for A Level - seriously, anyone, go and see them if you haven't already.) But back to Perry: I was utterly delighted to discover that the final room of this year's Summer Exhibition at the Royal Academy is hung solely with The Vanity of Small Differences, which is what these works are called. They detail the rise and fall of 'Rakewell.'
I'm not necessarily suggesting that they're as good as Hogarth's. But they're certainly comparable. And who knows? Maybe, 200 year hence, people really will see them as social history. Perhaps they'll look at them and ask themselves what 'cage fighting' was, and why on earth we did it in a supposedly civilised age, and, even more puzzling, why the people doing it became famous? You have to go and see them in real life. The detail is amazing.
And I love art like this - the kind that makes me think that I could perhaps do it myself, at home, while watching episode after episode of The Good Wife, or anything else in English. (I wouldn't be able to combine it with my current obsession, Arne Dahl, sadly - I don't think I can sew and read subtitles, though there are many people who would argue that my sewing looks exactly like I was reading subtitles at the same time. Incidentally, if you haven't discovered Arne Dahl, I have one word for you: iplayer.)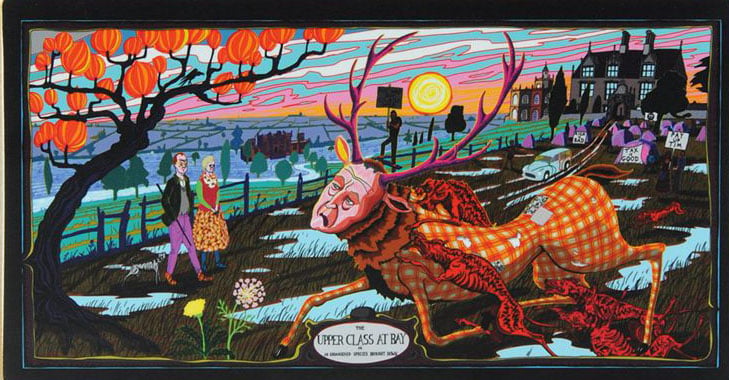 Incidentally, the whole Summer Exhibition was great this year. There were several works that I would have bought, in a parallel world in which I have more wall space, floor space (there were some great sculptures - look out for the
Inebriate Owl
) and limitless funds. And I'm definitely going back for another look at the Grayson Perrys.
The Summer Exhibition opens this weekend at the Royal Academy.