Having spent the entirety of my twenties at Conde Nast, I am happily on familiar terms with the Vogue library, which is situated in the basement of Vogue House and contains all the back issues of every Vogue, ever. Flicking through them is like discovering that fabled other country of the past - here are glimpses into an era when women dressed for dinner, here are adventures undertaken by Norman Parkinson, here is Her Majesty the Queen as a young girl photographed by Cecil Beaton, and here are couture gowns of the thirties and forties, eternalised by Horst. (And then your eyes go funny, in the desperate search for the Irving Penn image of the woman having milk splashed in her face/ the Willy Rizzo image of a woman in a hat and net over her face/ any other iconic image by any other iconic photographer that you know is somewhere, in either British/ French/ American/ Italian Vogue, sometime in the 60s, but if it was syndicated,
where did it appear first? AND WHEN WILL ALL THE ARCHIVES ALL BE DIGITALISED?!)
Helen Bennett, 1939
© Condé Nast/Horst Estate
But all that is an aside; this is about Horst, who is the subject of a new exhibition at the Victoria & Albert Museum - who call it "the definitive retrospective exhibition of the work of master photographer Horst P. Horst (1906-1999) - one of the leading photographers of the 20th Century" - which opens this weekend, and I would urge anybody to go, whether or not they have an interest in frocks. For while the exhibition explores his collaborations and friendships with such luminaries as Coco Chanel and Elsa Schiaparelli - and Marlene Dietrich and Noel Coward and Salvador Dali - it also shows Horst's other work. His nude studies (there's a particularly exquisite
Odalisque
), his patterns created from natural forms (these didn't actually do much for me, though there were a few which I thought could become rather exquisite Luke Irwin rugs) and his travel photography from the Middle East, which is amazing, and all the more fascinating because, these days, even the most intrepid traveller can't readily reach places that he visited. In this instance, the past really is another country.
View of ruins at the palace of Persepolis, Persia, 1949. © Condé Nast/Horst Estate
Patterns from Nature Photographic Collage, about 1945. © Condé Nast/Horst Estate
Not Horst. One of Luke Irwin's rugs from his Tarantella collection. I'm still dreaming of a Luke Irwin rug.
And Horst photographed interiors, too. He was published in House & Garden as well as Vogue, and it was he that is responsible for that incredibly famous image of Diana Vreeland, then Editor of American Vogue, in her drawing room which she arranged to be red, 'like a garden in hell'. The picture isn't actually in the exhibition, but here it is: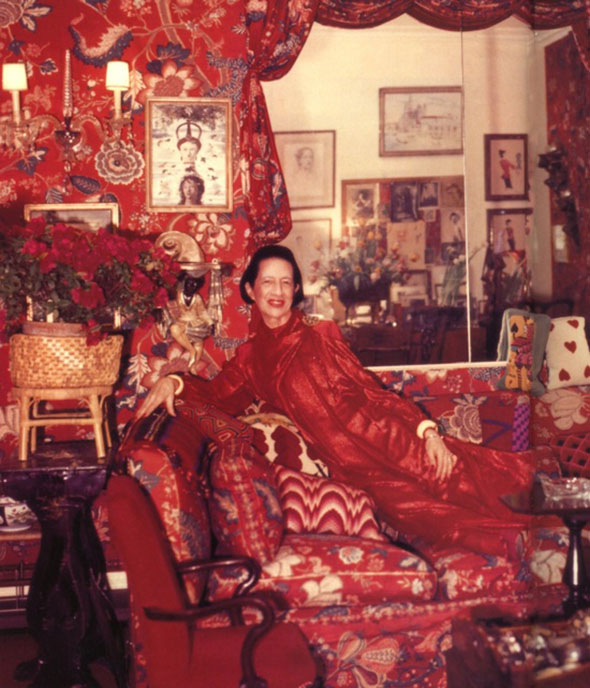 Diana Vreeland, at home. There's a wonderful letter from Vreeland to Horst in the exhibition: "Dear Horst," she writes. "I cannot tell you how perfectly beautiful I think your pictures of Persia are . . . "
(Incidentally, I am currently obsessed with red. Obsessed. I'm going to have a chair upholstered in this amazing fabric - Snow Tree by Colefax & Fowler - it was inspired by a paper from Drottningholm Court Theatre in Sweden, a piece of which was given to Nancy Lancaster, who was then owner of Colefax & Fowler, by the King of Sweden. Is it not heaven?)
Snow Tree in red, by Colefax & Fowler
And Horst photographed Nancy Lancaster's house, too. Obviously. For after all she was one of the greatest influences on interior decoration and garden design in Great Britain and America in the second half of the 20th Century. Those images, too, aren't in the exhibition, but many others are, including one of the apartment that Horst lived in in Paris, which was published in British Vogue in 1931, and which - unlike my house - is a masterclass in serenity. (He also photographed Karl Lagerfeld's Art Deco apartment, and Yves Saint Laurent at home, but I bumped into my friend Deep, who is Fashion Director of Tatler, before I got to the final room . . . and we were discussing jean shopping for the New York shows which she's about to fly out for, and the changing fonts on the the covers of Vogues of yesteryear - there's a great collection of covers with some seriously great fonts . . . . and then I remembered I had a lunch. I have to go back.)
So go. It chronicles an era (rather like this post, colour appears half way through) and has moments of beauty that touch on the sublime. FMJ.
Horst is at the V&A until the 4th January (and, while you're there, you could always pop into the Disobedient Objects, too . . . )
www.lukeirwin.com
www.colefax.com