I'm ridiculously broody at the moment. My head if full of thoughts of more babies, despite the fact that we have nowhere to put them (literally.) So, thinking laterally, I'm considering the need for a new house. This is actually an impossibility, due to the fact that neither Andrew nor I have proper jobs, and so can not get a mortgage, and is also complicated by the fact that Sholto starts school in September, and if he gets into my first choice of school then I won't want to move away from this area,
ever
. Nonetheless, and firmly in the realms of fantasy, I'm picturing moving all of us into a large house in Maida Vale. Large enough to have a proper dining room. Because the more I read about their extinction, and everybody simply using kitchens, the more I want a return to more formal living. (Combined with two more children. There's no logic to procreation at
all
.)
But I can logically trace the origin of the dining room whim: a trip to Maison & Objet in Paris last week, followed by two days in Venice. It was china and porcelain galore, and then a visit to the Murano glass foundries and time spent examining the most exquisite examples of hand-blown and hand-engraved glass imaginable.
First up, Maison & Objet. It's huge. HUGE. It goes on forever. We (myself and Emma M-T, our Head Buyer at English Abode) got stuck in section 5a for what felt like days. And after the initial excitement of meeting Michael Aram in person - (I have long wanted his pomegranate salt and pepper shakers - look:
I once did a story on the house of Russian Prince who was married to a French Princess and they had a pair of these on their dining room table, and they looked just beyond exquisite, and very, very expensive, which, in actual fact, they're not. Anyway, tragically, Andrew doesn't love them as I do.)
- we began to wonder if we'd ever see anything truly beautiful ever again. So we set off for the luxury section, but, on our way, I got distracted by Gien. I love Gien.
The rabbits and those green plates come from their 'Coloured Enamels' range, and the tea pot, sugar bowl and tea-cups are new for this summer. Aren't they just heaven? Don't they make you long for an end to winter already? I so want the bunnies. Actually, I want all of it, I would use it in the garden of my imaginary Maida Vale house. Because it's not actually grand enough for my dining room, you see.
So, we got to luxury, and, once I'd managed to surreptitiously charge my phone while hanging out on a sofa in the Ungaro stand (house), and marvelled at Fendi's ability to shagreen absolutely every piece of furniture known to man (strict no camera policy in there, sorry) I discovered something very grand, in a Barbie dream house kind of way: Sophie Vallepigue, who I also wasn't allowed to photograph, but here are some pieces she made earlier:
Yes those are jewels. Amazing, no? They totally appeal to the 'too much is never enough' side of me. My only concern is what wallpaper I would use in the dining room, were I to fill it up with Sophie Vallepigue. Also, I think I'd have to have gold-plated cutlery to go with it - the existing silver wouldn't quite have enough oomph. And then I'm not sure if the overall effect would actually be chic. Potentially not . . .
It would probably be rather easier to adjust to living with these designs, by Flux, who were in the 'Now!' section and whom I have been obsessed with since discovering them at Tent. (I'm rather hoping we're going to stock them at English Abode):
It's contemporary blue and white, and all made at Stoke on Trent! And I love it. In fact, I'd almost go so far as to suggest that it's more than half way to supplanting the below on my fantasy wish list, not least because it would actually look very good with our existing (Gien oiseau bleu) blue and white.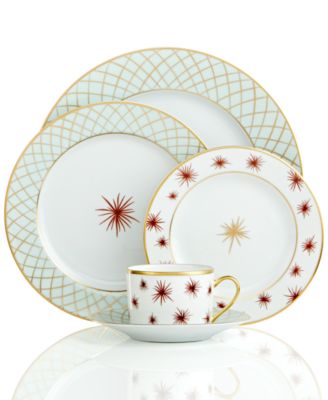 But oh, the 'Etoiles' by Bernadaud. It is beautiful, isn't it? Maybe we'll need a second set of china in our Maida Vale house. And I think it will look amazing with this wallpaper:
Brunschwig et Fils Beauport Promenade in Red. My current number one choice for the dining room.
Obviously I'd have the pomegranate salt and pepper shakers, too.
Murano Glass will come in part two . . . . However, just to finish up Maison & Objet, I'll leave you with the chopping board of my dreams, which one wouldn't actually want to use as a chopping board, but which would look amazing as a cheese board (in my new dining room. Or even before then.)
By Bethan Gray. And also I hope coming soon to English Abode. I mean, how much do you want it? How much . . . . ?!
www.michaelaram.com
www.gien.com
www.designsophievillepigue.com
www.fluxstokeontrent.com
www.bernadaud.fr
www.brunschwig.com
www.bethangray.com
www.englishabode.com