Nothing says 'back to school' quite like returning from a weekend on the Norfolk coast to find the October issues of World of Interiors, House & Garden and Tatler have arrived, along with the new Smythson catalogue. I love Smythson.
Love
Smythson. They have provided me with a diary every year since I started university, and their notebooks are a constant companion. I don't know how I would have got married without 'Wedding Notes', or indeed given birth without 'Baby Notes.' (I exaggerate, slightly. Obviously I would have managed, but the managing wouldn't have been quite so aesthetically enjoyable.)
But this September, for the first time since I left Conde Nast (when there was a real new season feeling, because, well,
there was a new season
) this year is a proper 'rentree'. Sholto starts school next week. Esmeralda had her first ever lesson today (swimming), and I have once again got an office to go to (though I don't, fortunately, have to go there full time, or even regularly.)
I do, however, have to decorate the new office, because obviously if I'm going to spend time there, it's got to look nice. So to that end I've been perusing paint charts, acquiring tester pots, and sticking up sheets of paper all over the walls. I know that Farrow&Ball have got new colours coming out this week (there's a rather acidic yellow that I like, but our office, which I'm sharing with Christopher, it's all due to our new venture
more of which coming soon -
incidentally he grandly informed me that "Zoffany paints are much better quality"- is south facing and I think if we went for yellow it would be like working actually inside the sun) so I'm thinking a sludgy green, or a yellowy green:
Clockwise, from top left: Churlish Green, Vert de Terre, Lichen, Saxon Green. All by Farrow&Ball.
I was most swayed by Vert de Terre, but then I got home and looked at the new Smythson catalogue again, and realised that Churlish Green is almost the exact same colour - chartreuse - as the new 2014 diary that I am currently lusting over: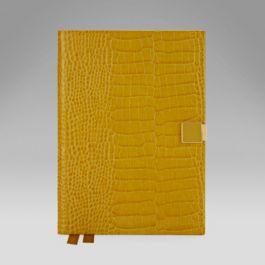 (One of the reasons I so love Smythson is that they bring out new colours every year. Although this also has negatives. I almost had a break down when they discontinued their Park Avenue Pink correspondence cards. I used to have them with my name engraved in pale grey, and they were beyond amazing. Now I have Bond Street Blue, with my name in bright pink, which is still good, but
not quite the same
.)
Regardless - how chic would it be to have one's diary matching one's office walls?! And the colour is one that I've been semi-obsessed with ever since Nicole Kidman wore that Dior dress to the Oscars, back in God remembers when:
Literally one of my favourite Oscars' dresses of all time.
Obviously, all this has also got me thinking about the walls at home. More and more I realise that I treat our house as a kind of experiment, which I'm personally not averse to, and I don't think that the children mind either. (I've stopped consulting Andrew - I'm too scared of what the answer might be.) Reading World of Interiors on the bus on the way home from the new office (must get a bicycle. I want an old-fashioned Pashley, sit-up-and-beg with a basket on the front, I will look like this:
strolling past the white stuccoed fronts of the grand Notting Hill houses - ho hum -
only
if I diet successfully at some point) anyway, World of Interiors: I read an amazing article about a woman called Clare Bosanquet who discovered the most heavenly rollers on a trip to Romania in the late 1990s, and now makes her own, which one can buy, in order to make one's walls look like this:
Or this:
Or even this:
I've been wanting to wallpaper our walls since forever, but have refrained because the wallpaper I want is by Hermes and costs more than it would to gold leaf the walls (I think, roughly, my maths is not a forte when it comes to shopping.)
Hermes jungle wallpaper - LOVE
But now I realise that I can pseudo wallpaper the walls by buying one of the rollers! Currently, our walls are Cornforth White by Farrow&Ball, which is actually pale grey, so I could recreate my original Smythson correspondence cards in the inverse by choosing a pale pink to make the pattern. Or go rock chick with neon pink, or go for somewhat more subdued (which might be a good thing - there is pattern fighting pattern all over our house. I actually got a shock when I walked back into it after two weeks in Wales, I'd sort of forgotten just how much there is. But then I think of Diana Vreeland's drawing room, and remember that pattern is a good thing) with white, which might well be the answer.
New season, new term, new walls.
www.smythson.com
www.farrow-ball.com
www.the-painted-house.co.uk